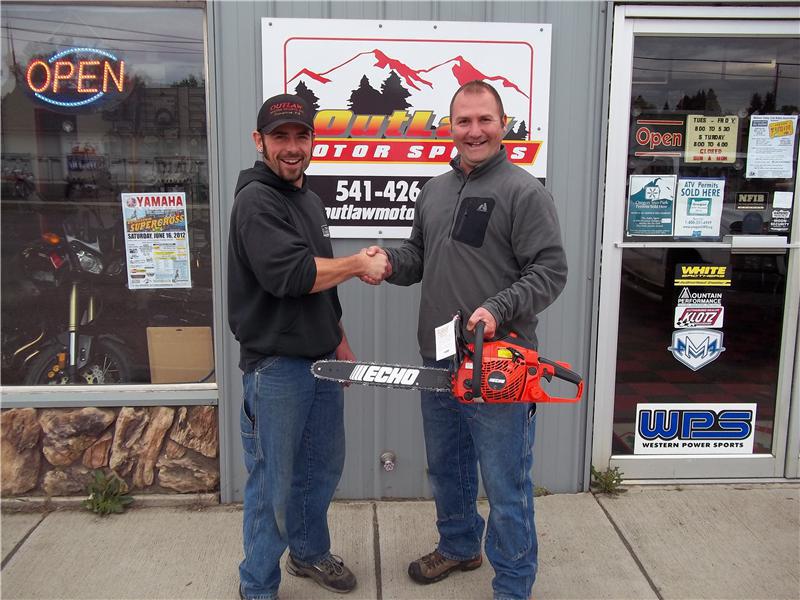 Congratulations to Clayton Lamm Winner of the Raffle to raise money for the Countys appeal of the Travel Management Plan, Clayton chose the Echo chain saw.
Ask about the all new Viper XTX long track kits and boost options coming for the new Viper XTX
CALL FOR PRICES ON THE 2014 ALL NEW VIPER WITH 162 TRACK KIT AND THE YAMAHA NYTRO MTX 162 SE.
OUTLAW APPAREL
OUTLAW HATS $12.00, OUTLAW T SHIRTS, $15.00 and OUTLAW SWEATSHIRTS $30.00
All Brands
Loading...
Used Snowmobiles
| | | | |
| --- | --- | --- | --- |
|   | | | |
Honda and Yamaha Non-Current ATV, Dirt Bike, and Big Red Sale
| | | | |
| --- | --- | --- | --- |
| | | | |
2013 Honda ATVs
| | | | |
| --- | --- | --- | --- |
| | | | |
Hours of Operation
| | | |
| --- | --- | --- |
| Tue | 8:00 a.m. | 5:30 p.m. |
| Wed | 8:00 a.m. | 5:30 p.m. |
| Thu | 8:00 a.m. | 5:30 p.m. |
| Fri | 8:00 a.m. | 5:30 p.m. |
| Sat | 8:00 a.m. | 4:00 p.m. |
| Sun | - Closed - | |
| Mon | - Closed - | |